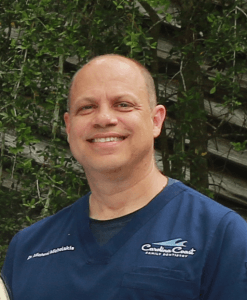 Dr. Michael A. Michelakis (Dr. Mike)
Dr. Michelakis earned a bachelor's degree in microbiology from Ohio State University in 1982, followed by his Doctor of Dental Surgery degree in 1986. An Ohio native born in Warren, he began his own private practice in Austintown, Ohio, and remained there for fourteen years before moving to North Carolina in 2000.Dr. Mike enjoys all aspects of dentistry and has a special interest in endodontics (root canals), dentures and cosmetic dentistry. Having taken many art and pottery classes in high school, college and postgraduate school, Dr. Mike can bring his artistic skills to all his cosmetic cases. This, in combination with special training in the use of CEREC and CAD/CAM technology, enables him to create extremely aesthetic same-day crowns as well as other restorations. Call today to schedule your visit with Dr. Mike!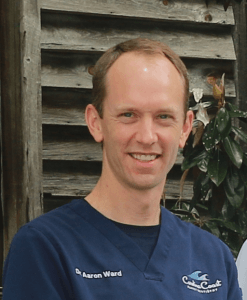 Dr. Aaron S. Ward
Dr. Aaron S. Ward graduated summa cum laude from Campbell University in 1999. He went on to attend the University of North Carolina at Chapel Hill School of Dentistry as a presidential scholar, earning his Doctorate of Dental Surgery degree in 2003. He began practicing dentistry in Shallotte, North Carolina, in the summer of 2003.Whether root canals, crowns and bridges, complete and partial dentures, restoration of dental implants, aesthetic fillings, or minor oral surgery, to name a few, Dr. Ward enjoys providing comprehensive dental care for entire families from adults to children. Cosmetic dentistry is of particular interest to him, including veneers, crowns and cosmetic bonding. With the recent addition of CEREC, most indirect restorations such as crowns, veneers, inlays and onlays can be completed in just one visit.
In 2018, Dr. Ward furthered his education and clinical skill set by successfully completing a seven-month educational continuum in dental implantology from the Triangle Dental Institute, receiving his diploma in November of that same year. While at the institute, Dr. Ward was trained in the surgical placement of dental implants, guided bone regeneration (GBR), guided tissue regeneration (GTR), site preservation bone grafting (socket grafting) and implant-supported full-arch restoration.
In July 2018, Dr. Ward also completed a surgical residency in dental implantology at the Dominican Training Institute (DTI) under the supervision of Dr. Leo Malin. Dr. Malin operates an implant-only practice in Lacrosse, Wisconsin, and is a recognized authority in the field of dental implantology.
Dr. Ward is a member of the International Congress of Oral lmplantologists (ICOI). With the addition of a Cone Beam CT (CBCT), Dr. Ward can now perform fully guided dental implant surgery. Guided implant surgery is based on the fabrication of a custom surgical stent generated from the CBCT that Dr. Ward will use to place your dental implants. Guided surgery ensures that your dental implants will be placed in the proper position and depth, therefore increasing success and decreasing complications. CBCT is a 3D X-ray and is quickly becoming the standard of care in dental implant surgery.
Dr. Ward places Straumann dental implants. Straumann is the global gold standard in implant and aesthetic dentistry with over 60 years of history.
Dr. Ward has been on three Christian medical mission trips to Haiti, providing dental care to the people of Cayes-Jacmel. He also enjoys volunteering his time and dental services with the NC Baptist Men's mobile dental clinic. He and his wife, Rachel, reside in Shallotte along with their five children.
---
MEET OUR TEAM
When you call Carolina Coast Family Dentistry or visit our office for your appointment, you can expect to be welcomed by our caring front desk staff. While these individuals are great at addressing insurance and scheduling concerns, their experience also allows them to answer nearly any dental question you have.
In addition, most of our team members have been with us for more than 16 years. This experience ensures we work together very well with Drs. Michael Michelakis and Aaron Ward, to offer comfortable and attentive care. You can also count on our hygienists and assistants to provide you with efficient, considerate service at every visit. Please call us at 910-754-4507 if you have questions or would like to arrange a visit with our dentists.